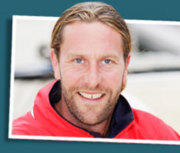 Former pyd skipper Danny Watson has been appointed to head up the innovative Cat Zero project in Hull.
Danny cut his teeth with pyd several years ago and completed many passages as mate before being appointed as one of our group skippers.
His profile via Cat Zero's web site follows below:
Danny Watson graduated from the University of Edinburgh as Batchelor of Commerce with Honours in 1993. Danny's business career started with Tullet & Tokyo Forex money-brokerage. He then moved into sports management and sponsorship negotiations, by establishing an agency with Duncan Goodhew whose clients included Ian Botham.
Danny's professional sailing career started with private charters, leading to skippering for Professional Yacht Deliveries Ltd. He then became the Skipper of the Ocean Youth Trust North West, working with young people. His next move was into round the world yacht racing as the Skipper of the Qingdao in 05/06, and trained the crew. The contract was extended to 07/08 with Clipper Ventures, when he became the Skipper of the Hull & Humber, which won overall second place. Danny again had responsibility for crew training and supported Hull's Tag Team (part of the Wilberforce 200th Anniversary celebrations).
As well as having raced twice round the world, he is a highly qualified Yachtmaster Ocean with Commercial Endorsements, and holds Master Yachts Class IV.
To find out more about the project and see if you can become involved why not visit the web site at http://www.catzero.org/pages/corp