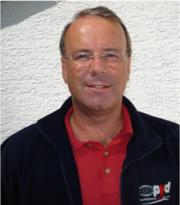 Bill King is joining pyd as a director from September 1st 2008. Ahead of his official joining date he will be out and about on deliveries and meeting clients at various boat shows.
Bill recently retired from the RAF as a Squadron Leader after a varied career, including front line operational experience in both Northern Ireland and Afghanistan. His final posting was as air operations planner at NATO HQ in Ramstein, Germany. He has lived and worked in the UK, Cyprus, Northern Ireland, Turkey and Germany.
Bill's sailing experience started with club dinghy sailing in Ramsgate harbour, but really took off during his service in Cyprus. There he cut his nautical teeth on an elderly Nantucket Clipper and a very Spartan UFO 34, as well as a leaky Drascombe Coaster in which he cruised extensively along the Cypriot coast. On return to the UK he took his Day Skipper qualification.
Since then, Bill has worked his way through the RYA / MCA cruising training programme and is now a Yachtmaster Offshore (Commercial) and Cruising Instructor. While serving, he was the Offshore Sailing Secretary for the RAF Sailing Association and participated in numerous offshore racing events as well as the STA Tall Ships Race on three occasions. He has also instructed courses at Gosport and organised numerous sailing expeditions for service personnel in sea areas from Norway and the Western Isles to northern Spain and the Greek islands. During a three year NATO posting to Izmir, Turkey he owned a Wauquiez Pretorien 35, which he cruised the Aegean and Mediterranean coasts of Turkey, with his young family as crew.
Bill has taken early retirement from the RAF, with the specific aim of bringing his transferable skills and managerial experience to pyd. He is confident that his involvement with the company will help strengthen the management team and looks forward to developing and applying his own ideas for the future, particularly in the areas of administration, training and yacht management.
Bill will live with his wife, Seema, a maths teacher, and their two teenaged children near Windermere.