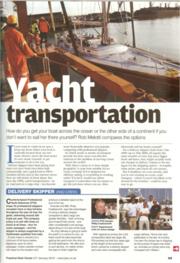 We were pleased to be asked to help when we were approached recently by Rob Melotti the News Editor of Practical Boat Owner magazine, the UK's leading monthly full of tips on how to get and stay afloat.
Rob was preparing an article on yacht transportation and asked for our take on the practicalities of crewed yacht deliveries – particularly over long distances.
You can see the finished article (pun!) on page 43 of the January edition of PBO. And do remember that we were quoting from major port to major port. That's all a ship can manage and if your boat is in a marina down the road, or you want her moving a week after the ship has left, there really is no comparison at all on either price or flexibility.