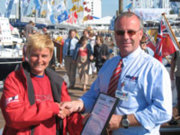 Taking advantage of an excellent venue at the Southampton Boat Show in September 2008, pyd's Training Director, Bill King, presented a Completion Certificate to a delighted Ankie Eeken, who is the first female graduate of the company's innovative Sailing Apprentice Scheme. Ankie, who is Dutch and a former IT manager, joined the scheme in March 2008, having already completed the RYA Yachtmaster Offshore qualification at the UKSA and with close to 9,000 sea miles under her belt. Her aim was to broaden this experience under the direct mentorship of professional pyd skippers during delivery passages that ranged from Falmouth to Oban in a Grand Soleil 45 to an Atlantic crossing from Trinidad to Ipswich in a Hallberg Rassy 46. In doing so she added a further 15,527 nautical miles to her tally over a six-month period and a great deal of hard-won experience in all weathers and sea conditions. In her final assessment of the scheme, Ankie said:
'This apprenticeship has been of great value for me, it is well built up and I feel confident now to make the step to skipper level … I have learned more in six months than in twenty years of sailing / training before.'
Ankie's experience exactly matches the purpose and aims of the Sailing Apprentice Scheme as originally developed by pyd's founder, Phil Coatesworth. Those who have successfully passed the rigorous assessment standards of the scheme come from many backgrounds but all share the determination to expand their knowledge and credibility as skippers, with a view to possible employment as professional delivery skippers in their own right. In Ankie's case, she is looking forward immensely to having the opportunity to deliver yachts on behalf of pyd during the 2009 season and the company has every confidence in her proven ability to do so, safely and to the highest standards of seamanship.