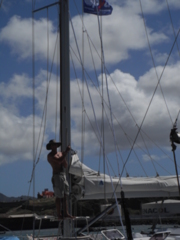 Thoughts On The Sailing Apprenticeship Scheme
When I joined the Sailing Apprenticeship Scheme I thought that I would be getting the opportunity to see some new places, work with a variety of different people, and increase my overall mileage and experience to a point where I could comfortably and confidently apply for any suitable job within the yachting and superyachting industries. I'm pleased to say that all of the above has been achieved and more. I expected that I would sail with a wide variety of different people, all of whom would bring their own experiences to sailing.
What I did not expect was the willingness of these people, the skippers, to share with me their experiences and knowledge of a multitude of aspects of sailing and yacht management, marina and customs procedures and general advice for finding paid work in many different areas of the yachting world.
My overall impression of PYD and the Sailing Apprenticeship Scheme is very positive. From the first email to Bill King, expressing an interest in the scheme, to meeting Bill in Lancaster and being interviewed as a potential candidate was a swift but unhurried process.
Once I was approved as a scheme member by Bill and Phil, the process of setting me up with the necessary equipment and uniform was started and indeed but for the exceptional speed at which I received a position as crew on my first PYD delivery the uniform would have been ready for me in time. However I did not go without uniform, I received a crew fleece and t shirt in the post before I left with the promise of the scheme uniform to follow soon.
Each trip that I have been on has been very different. I have been on old yachts and newer yachts. Well equipped yachts, and yachts with no equipment at all coming straight from the brokerage. Most of the deliveries have been back to the UK from somewhere in Europe, 1 has been from the UK to Sweden, and at present I am mate on a delivery from Croatia to Australia. The variety and backgrounds of the various skippers, and their experiences has made for fascinating conversations whilst on board. The different people that I have been involved with from owners representatives and indeed the owners themselves has presented a fascinating cross section of the yacht owners and the different backgrounds that these people come from.
As I come towards the completion of my Sailing Apprenticeship I find myself looking back at the person I was before starting on the scheme and the person I am now finishing the scheme and I marvel at the changes that I have gone through. Physically I am still the same person but mentally I am completely changed. I am more resilient, having faced different challenges and succeeded in completing them. I am more knowledgeable having acquired a much better understanding of the procedures and paperwork that goes with taking a yacht from place to place along with her crew. I am more confident because I have far more experience to draw upon, of yachts and their systems, of people and their limitations and of weather and its regular effects on planning and execution of planning. For me the Sailing Apprenticeship scheme has been ideal. I have achieved all that was promised by PYD and much more. I have been able to continue to lead my life on land around the various trips. Indeed I was able to schedule my trips around my cousins wedding which was an important event for me to attend, all without any fuss or frustration. I have met both Bill and Phil and been impressed by their genuine interest in my progress through the Sailing Apprenticeship scheme. For me it is definitely worth the financial cost.
Giles Rice pyd Sailing Apprentice Mindelo Cape Verde Islands October 13th 2010