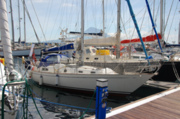 TRISTAN GOOLEY…Tristan Gooley, 34, is vice chairman of Trailfinders, the travel company founded by his father, Mike, and is a prolific adventurer.
He crossed the Atlantic to achieve his dream of becoming the second man to have both flown and sailed solo across the Atlantic. He completed the first part of the challenge flying a single-engined Cessna Caravan from Goose Bay, Canada, to Oxford, England, via Greenland, Iceland and Scotland in May 2007.
The second part of the challenge involved sailing his Contessa 32 'Golden Eye' solo across the Atlantic. pyd helped out by delivering the boat down to the Canaries in the Autumn of 2007 and back from St. Lucia to Chichester in 2008.
Tristan's father Mike Gooley is also a client of pyd
Tristan used the challenge to raise awareness of prostate cancer, a disease that kills one man every hour, and pay tribute to Steve Fossett, the only other person known to have achieved both solo feats. Steve is missing, presumed dead in Nevada, America, following a routine flight in September 2007.
At the end of the inbound delivery Tristan wrote:
"I took the boat out a couple of days ago and although I didn't get a chance to get the sails up was very happy with her condition.
Job well done!
Funds left my account today and should be with you shortly.
Thanks alot
Tristan"
See Tristan's website:
www.atlanticchallenge.co.uk and also an article about the trip at:
http://www.atlanticchallenge.org.uk/YMarticleApril08.pdf