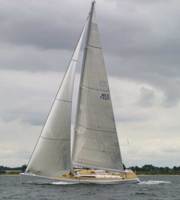 It's not often that any yard, even one of the major European boat builders, has a new seventy footer on the market, and boats of this size and quality are extremely important to both their builders and proud new owners. Just such can be said of the new X-70 from the famous Haderslev yard on the East Coast of Jutland, which PYD have recently been instructed to deliver to Antibes in France.
PYD Managing Director Phil Coatesworth said proudly yesterday 'This is an extremely interesting, high quality, yacht with a technically advanced build and systems profile and we were naturally very pleased to be awarded the contract'
During the delivery which will be run by a Skipper, Mate and deckhand from PYD, assisted by one of the owner's permanent crew, the office will be liasing with the design personnel as well as the yacht's owner and providing feedback on the performance under what will be a wide range of conditions.
As Phil comments 'I think it's very much this level of service, as well as the high standard of our crews which has led to our working with so many of the leading yards Worldwide'