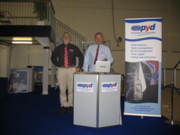 Phil Coatesworth MD of pyd will be at Eurasia Boatshow 2010 in Istanbul on February 12th and 13th as a guest of Mr E Galip Kaynar principal of the Turkish Hallberg-Rassy dealership.
As the show's press release says: 'Eurasia Boatshow 2009 was the second biggest boat and yacht show organized ashore. More than 200 small, medium or mega-size boats were exhibited in the fair, the importance of which was emphasized by Tony Rice, ICOMIA General Secretary.
The most important names and key decision makers of the marine sector visited Eurasia Boatshow 2009. In his speech at the VIP opening day of the show Tony Rice, The ICOMIA General Secretary (International Council of Marine Industry Associations), stated Turkey's importance for the Mediterranean Region with its fantastic coasts and also the yacht industry being developed in the country.
Eurasia Boatshow hosted 5.721 international visitors from many European countries including Netherlands, Germany, UK, Italy, Bulgaria and Greece. Chairman of the Board of NMMA (National Marine Manufacturers Association) Thomas Dammrich and the Head of Great Lakes Boating Federation USA (with around 10 million members), Ned Dikmen were also among the visitors of the fair.
Some of the international brands participated to the fair are as follows ; Giant Motoryachts, Atlantis, Intermare, Delphia, Comet, Sealine, Glastron, Fairline, Regal, Northshore, Ferretti, Riva, Beneteau, Azimut, Bayliner, Maxum, Meridian, Polaris, Galeon, Carianda Yachts, Criscraft, Archamboult, Riviera, HanseYachts, Bavaria, Sanboat, Larson, Hallberg Rassy, Nimbus, Board Cruise, Jeanneau, Rinker, Northstar, Mastercraft, Tomcat, Stringray, Rancraft, Alson, Chaparral, Bat, Classic Cruiser, Taylan, Star, Egemar Liberty, Ada Board Yard, Alfa Beta, Barbarossa, Bonito, Posedion, Turbotsan and Apex.
The goal of Eurasia Boatshow is to provide new international perspectives to the sector in a familiar fair venue and with 22 years of experience and professionalism of CNR Fairs to become the best exhibition through Europe.'
pyd look forward to being on board.