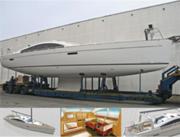 Leading French quality boat builder Wauquiez have selected pyd to carry out a series of sea trials aboard their new Wauquiez Pilot Saloon 55.
Henri Wauquiez built his first yacht in 1965 – and the company's sailing boats remain famous around the world for their signature comfort, speed, and reliability. Earlier models such as the Elisabethan 29 and Prétorien have given way to Centurions and Pilot Saloons, but the team at Wauquiez are still motivated by their founder's passion for excellence in seaworthiness and performance, styling and construction.
That's why Marketing & Sales director Joel Jarrijon was keen to involve experienced outsiders in fine tuning the functionality of their latest flagship the Berret and Racoupeau designed Wauquiez Pilot Saloon 55.
"We have some of the world's finest designers and boat builders involved in this project and already we know she will be a winner…" says Jarrijon. " But some of our people have been living with this project for three years and it is inevitable that they get close to what we have done so far".
For this task, Wauquiez demanded a professional, thorough and experienced team to provide a detailed analysis of their new flagship under real sea going conditions. Joel Jarrijon finally selected pyd (a company that has built its reputation on thoroughness and professionalism) to undertake their evaluation in a week of intensive sea trials in the very testing conditions of the North Sea.
Formed in 1995, pyd has increasingly diversified into yacht management and training from its core involvement in the global yacht delivery market, where they work for many of the World's leading boat builders. The heart of the business is a 35 strong group of highly experienced skippers supported by literally hundreds of crew and it is three members of this team, with tens of thousands of sea miles between them, who will undertake the evaluation before reporting back to the project management team at Wauquiez.