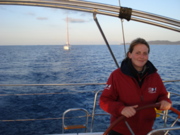 At this time of year pyd always has a surge of applicants who are keen to apply for the limited number of places available on our highly successful Sailing Apprentice Scheme. The Scheme has now been running for 5 years and Apprentices have come from all walks of life and have aged from their early 20s to mid-60s. Their common ground is a passion for sailing and a will to break into the exclusive area of professional skippering in the global marine industry.
All candidates are interviewed by a pyd director and their motivation, prior experience and aims are discussed in detail. Those who are already qualified to YM Offshore will sail on our professional deliveries as First Mate, gaining invaluable first hand experience of yacht and crew management at every stage of the delivery process. We aim to provide a wide variety of delivery passages, ranging from the Baltic to the Mediterranean and further afield, including a trans-ocean passage that can be used for the RYA YM Ocean assessment (astro navigation and log). During an attachment of around 6 months, the apprentice will cover a minimum of 10,000 nm on many different boats and in all sea conditions. At the end of their time with pyd, apprentices can develop their sailing and yacht management skills to a level that would allow them to apply with confidence for skipper appointments in many areas of the marine industry. For the moderate cost involved we believe that the pyd Sailing Apprenticeship Scheme is a sound investment in any professional sailor's future.
To ensure the highest standards of professional mentoring, we take on a maximum of 10 Sailing Apprentices each year and we are already half way to filling the 2010 quota. Anyone who may have an interest in joining the Scheme this year should get in touch with Bill King as soon as possible on 01539 552130 to discuss their suitability and options. Don't miss the boat!