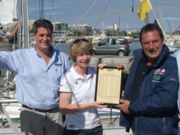 Each season, as the numbers of deliveries we undertake increases, we take on a few additional skippers.
This year we are adopting a new approach to the recruitment process and during March will be running a series of two day selection sessions on the Solent.
If you already have substantial experience (an absolute minimum of 15000nm) as skipper, on deliveries, or as an instructor, or charter Captain, or even as a serious leisure sailor, and think that you could contribute to the maintenance of what are very high standards at pyd, then please get in touch in the first instance with a full CV and details of at least two sailing references to Jane Matthews at crew@pydww.com or to find out more telephone her on +44 1539 552130.
We look forward to hearing from you.