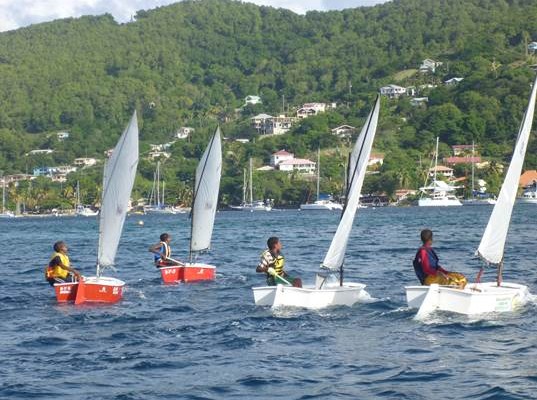 During a visit to Bequia earlier this year one of the PYD team came across the Bequia Youth Sailors http://www.bequiayouthsailors.org/ . This is essentially a dinghy club sailing Optimists, but with the hope of acquiring some Lasers so that they can build up towards a possible Olympics entry over the next few years. We met some of the kids, who age from around 8-16, and even took some of them out to lunch one Sunday. I must say what they are managing to do with virtually no funds is extraordinary and the standard already achieved is impressive. All of this is done on a voluntary basis by the adults involved and the children are generally unable to make a contribution, so they depend on the goodwill of what is a far from affluent community.
The group running the club are all local enthusiasts and many are involved with the famous Bequia double enders (traditional boats which were originally used for trade, and fishing), so anyone calling by might be lucky enough to get to sail on one – particularly at the Easter Regatta, which has to make a serious annual dent in the region's rum stocks!
Finally they are looking for someone to help with instruction over the summer. It's unpaid, but fully found otherwise and would be a great experience for the right person.
Contacts over there are:
Richard Ashton: bequiayouthsailors@gmail.com
Andy Mitchell: mitchell1@vincysurf.com
Web site: http://www.bequiayouthsailors.org/