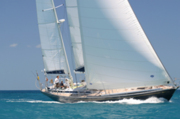 The manager of this well known Swan 65 was so impressed by the pyd crew he saw delivering an Oyster 485 in to Oban, Scotland earlier in the year that he had no hesitation in approaching us for help when the need arose.
Nittan II is a Swan 65, Hull Number 8. She was built by Nautor in Sweden in 1974 .
Originally built as ANNA OF THE SEA, later as XARGO III she competed in the Whitbread Round the World Race 1981-2 and was placed 6th. Other Swan 65's had competed in two earlier Whitbread Races with great success, including winning the first race and a second place in the second race.
In more recent years the Swan 65 has become renowned as a fast and most comfortable cruising yacht. They are equally suitable for private family use or for charter. Yet, they may still be raced with great enjoyment and some success, particularly at such events as The Nioulargue, Antigua Race Week and the Swan Regattas.
Since her success in the Whitbread Race, NITTAN II has changed hands a number of times. Each owner has maintained and updated her, including a refit in England 1990, and further refurbishing in 1993, 2002 and 2004 at Silvers on the Clyde.
She is bound for the Mediterranean